Venue & Hospitality
Our Venue & Logistics team is in communication with 2 best properties (Hotels) in Montreal, USA and we will update the final venue information soon.
For your better understanding and kind information, we recommend you to check our previous Montreal conferences venue and conferences information listed below.
Our Previous Montreal Conferences Venue Information
Holiday Inn EXPRESS, 10888 Chemin de la Côte-de-Liesse, QC H8T 1A6, Canada.
We strongly recommend you to view the feedback given by our previous attendees @ http://conferenceseries.com/usa-meetings/reviews

Our Previous Conferences held in Montreal

3rd World Congress on Nursing Practice & Research

World Congress on Cardiology and Cardiac Surgery

3rd International Conference on Food Chemistry & Nutrition

3rd World Congress on Nursing Education, Practice & Research



Holiday Inn EXPRESS, 10888
Chemin de la Côte-de-Liesse, Lachine,
QC H8T 1A6, Canada.


We successfully organized 3000+ Conferences across America, Europe, Asia and Middle East continents, find more information @ https://www.conferenceseries.com/previous.php
---
Aloft Hotel Montreal
500 McMillan Ave, Montreal, QC H9P 0A2, Canada
Conference Dates: June 14-15, 2019
Hotel Services & Amenities
Audio/Visual Equipment Rental.
Business Center.
Business Phone Service.
Complimentary Printing Service.
Express Mail.
Fax.
Meeting Rooms.
Office Rental.
Photo Copying Service.
Secretarial Service.
Telex.
Typewriter.
Video Conference.
Video Messaging.
Video Phone.
ATM.
Baggage Storage.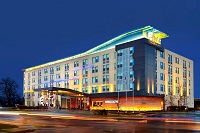 Transportation
Updating Soon....
About City
Montreal rated among the best cities to live in the world. Montreal is the most crowded region in the area of Quebec and the second-most crowded in Canada. It has an unmistakable four-season mainland atmosphere with warm to sweltering summers and frosty frigid winters.
Montreal named world's best city for students. Given the global competition for the best brains in the world and Canada's relatively high standing these days. Montreal is North America's main host city for international events. Montreal is home to the renowned Cirque de Soleil and facilitated the Summer Olympics in 1976. Montreal additionally played host to Expo 67, thought to be the best world's fair in the Twentieth Century. Montreal hosts more than 18,000 foreign students from more than 150 countries every year. It's time for Montreal to capitalize on its high rankings to enhance its future.
Industries include aerospace, electronic goods, pharmaceuticals, printed goods, software engineering, telecommunications, textile and apparel manufacturing, tobacco, petrochemicals, and transportation. The service sector is also strong and includes civil, mechanical and process engineering, finance, higher education, and research and development.
The city is known for its cultural vibrancy and different creative communities, from music to literature, fashion design, and the visual arts. One of the most significant factors in this regard is the city's relatively low cost of living, which includes rent and mortgage costs, public transit passes, food prices, and medical care.
Presently, the city has the Canadian Grand Prix of Formula One, the Montreal International Jazz Festival and the Just for Laughs celebration.