Day 2 :
Keynote Forum
Tanta University, Egypt
Biography:
Fatma Elhendawy is currently working as an editorial member of Tanta Dental Journal and professor.
Abstract:
General anesthesia is an important technique to manage the child behavior. It is a controlled state of unconsciousness in which there is a loss of protective reflexes, including the ability to m maintain an airway independently and to respond appropriately to physical stimulation or verbal command. Indications and contra indications of general anesthesia must be considered according to the classification of American society of anesthesiologist. The anatomic and physiologic differences between child and adult also are very important issues during the application of general anesthesia .Pre-operative evaluation and preparation of the patient with the operative procedures will be included together with postoperative instructions and Complications of general anesthesia.
Keynote Forum
National Cheng-Kung University, Taiwan
Time : 09:30-10:15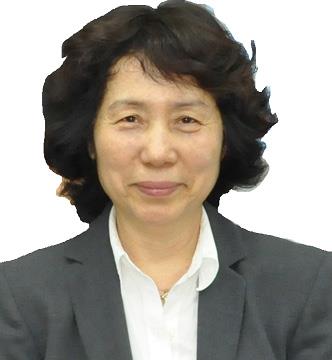 Biography:
Jiin-Huey Chern Lin received her Ph.D. from Northwestern University Dept. of Biological Materials (Chicago, Illinois). She is a Professor of Dept of Mater Sci & Eng and Director of Center for Biomaterials Research, National Cheng-Kung University (Tainan, Taiwan). She also serves as Technology Founder/VP/CTO of Joy Medical Devices Corp. (Kaohsiung, Taiwan). She has published 100+ SCI papers along with
70+ US patents and 100+ non-US patents.
Abstract:
A series of synthetic, inorganic, osteoconductive/ osteoinductive and fully resorbable Ca/P/S-based bone substitute devices have been developed by a joint research project of National Cheng-Kung University and Joy Medical Devices Corporation of Taiwan. The granular type product (Ezechbone® Granule) is a highly porous material characterized by its non-inflammation, high resorption, and fast healing capability. The cement type product (Ezechbone® Cement) is featured by its non-inflammatory, injectable and non dispersive behavior in blood/body fluid in paste form. The safety and efficacy of these devices have been confirmed by a series of chemical/ physical characterization and biocompatibility tests. The animal models for implantation tests include the SD rat femur body, New Zealand white rabbit femur condyle and mandible, Lanyu pig mandible and osteoporotic goat spine. The rabbit condyle implantation/histopathologic examination indicates that the implants of both types are always intimately integrated with the surrounding bone substantially without a foreign body or other undesirable tissue reactions. The porous Ezechbone® Granule outperforms autologous bone by its less inflammatory/ irritative tissue response and higher new bone formation rate, especially at the critical early stage post-implantation. Clinical case reports covered in this presentation include dental ridge augmentation, sinus lift, sternum closure, frontal bone augmentation and treatment of various types of fractures.
Keynote Forum
Dental Health Solutions Inc., USA

Biography:
Jimmy Kayastha, is a Consultant in Oral and Maxillofacial Medicine and Surgery at Dental Health Solutions Inc., San Francisco, California.
Abstract:
Background: The purpose of this study was to assess the effect of free-flap reconstruction of patients with advancedstage IV oral squamous cell carcinoma following ablative tumor resection. The purpose of this study is to elucidate the reconstructive indications of
the use of simultaneous double free flaps in head and neck oncological surgery.
Method: The study was based on a restrospective cohort of 76 patients with pathological stage IV OSCC patients (without distant metastasis) treated by tumor ablation with free flap reconstruction. Of the 76 patients, 49 (Group 1, Test) underwent surgical reconstruction with microvascular tissue transfer and in 27 (Group 2, Control) only local or regional flaps were used. Fibula osteo-cutaneous free flap was used in association with forearm free flap in 18 cases, fibula osseous-forearm in 7 cases, fibula osseous-rectus abdominis in 1 case, iliac crest-forearm in 1 case. Forearm free flap was used for intra-oral reconstruction in all cases. We compared patient survival and cancer recurrence rates between these two groups.
Result: Despite the unfavorably expected prognosis in group 1, both positive margin rate (12.2% in Group 1 versus 21.5% in Group 2, P = 0.112) and cancer recurrence rate (26.6% in Group 1 versus 28.3% in Group 2; P = 0.671) were not significantly different between the two groups. At the end of the follow-up period, 23 (47%) and 33 (67.3%) patients had died of oral squamous cell carcinoma in the microvascular reconstructive and control group, respectively. In the free-flap group, the mean and median survival time was 54 months. In the locoregional flap group, the mean and median survival time was 51 months respectively. No difference was seen in the survival time between the free-flap and local flap groups (P = .2). Univariate Kaplan Meier analysis revealed that positive surgical margins were significantly associated with shortened survival in the free-flap group and that recurrence was significant in both reconstructive groups. On multivariate Cox regression analysis, the status of the resection margin (P = .05) and tumor recurrence (P < .0004) showed a significant relationship with survival.
Conclusion: Patients with free-flap reconstruction of surgically created defects after oral cancer resection showed a trend toward better 5-year survival. Simultaneous free flap reconstruction, in massive oromandibular defects, represents in some selected patients, a good choice to achieve satisfactory aesthetic and functional results.